About
Ganmon
Made by the rough seas of the Sea of ​​Japan
The beauty of nature: Ganmon
---
Speaking of Ishikawa Prefecture, the Kaga Hyakumangoku Daimyo "Maeda Toshiie" centered around the castle town of "Kanazawa" is too famous.
In addition, "Kenrokuen", which is one of the three great gardens of Japan, "Samurai residence" that retains the remnants of the Edo period, "Wajima", which is famous as a morning market, and "Chirihama Nagisa Driveway", which is rare in the world where you can drive on a sandy beach, ,,.
There is no doubt that you will be very satisfied wherever you go.
However, "Ishikawa Prefecture" is not the only one.
If you are a little out of the center of Kanazawa, the Sea of ​​Japan will open your mouth wide, and the strong landscape of the Noto Peninsula that starts from there, and the abundant and delicious fish and shellfish that grow in the beautiful Sea of ​​Japan will surely be one page for everyone. ..
Why don't you visit Noto Kongo "Ganmon", which is also designated as a national park?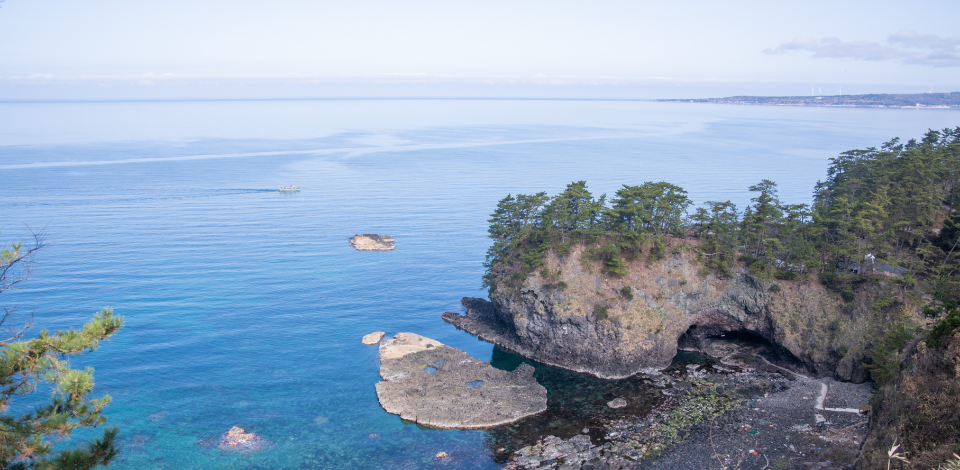 Noto Kongo
Noto Peninsula National Monument: Noto Kongo
---
29 km of the coastline of Shika-cho, Hakui-gun, Ishikawa Prefecture is a scenic spot that represents Ishikawa Prefecture called "Noto Kongo".
"Iwamon" is located almost in the center of "Noto Kongo", "Fukuura Port" with "Japan's oldest wooden Japanese lighthouse" at the south end, and "Yoshitsune's Boat Hidden" at the north end. You can see the "Yase Cliff".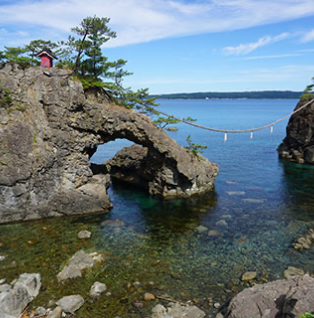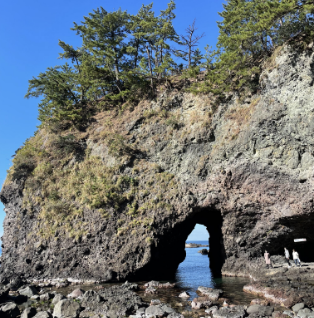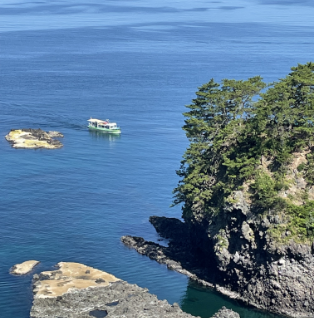 Noto Kongo
Tour boat
Video introduction
FAQ
FAQ
1.Is there a parking lot?
Please use the free parking lot at Tabinoeki Ganmon Pleasure Boat Information Center. (100 cars, 10 buses)
You can also park in the surrounding parking lots (near public toilets, a little park).
2.I would like to know the operating hours of a tour boat.
After the corona disaster, it is from 9:00 AM to 16:00 PM. It may be extended depending on the time.
3.Is there any platform?
Tabinoeki Ganmon, Pleasure Boat Information Center, Noto Kongo Center (Noto Kongo Center is closed)
As a special route, it is the Fukuura Port platform (usually none).
4.I would like to know the operation status of the day.
The operation may be canceled depending on the weather conditions on the day, so please call us directly (0767-48-1233) or check on twitter on the TOP page.
5.Do you have any holidays (regular holidays)?
Since the sea is in winter from late November to mid-March, it will be closed in winter.
6. I would like to know the detailed price.
Please see the price list for details.
7.Where do you sell your tickets?
Tickets are sold directly at the pier for cash settlement.
If you pay by credit card or electronic money, you can complete the procedure at Tabinoeki Ganmon Pleasure Boat Information Center.
8.Are there any discounts for groups?
Customers over 15 people are treated as a group and can board at a group fare.
Please see the price list for details.
9.Is it possible to board in a wheelchair?
There are about 100 steep stairs to the platform, so I think it's difficult.
10.Can babies board the ship?
Basically, if their neck is sitting, it's okay, but please make your own judgment such as the wave conditions.
11.Is there a discount for people with disabilities?
Please see the price list for details.
12.Is there a toilet on board?
There is no toilet on board. Please use Tabinoeki Ganmon or a nearby public toilet.
13.Do I need an appointment?
Individual customers are basically not required. Customers using Jalan, etc., please make a reservation from the web.
14.Please tell me how to get to Ganmon.
Please see Location page for details.
15.Can pets board the ship together?
It's OK. However, be sure to wear a lead. We may ask you to refrain from doing so when it is crowded.
16.Are there any tourist facilities or dining areas nearby?
For details, please see the information on sightseeing in the surrounding area.